DiMeo Farms & Blueberry Plants Nursery
3101 Nesco Road
Hammonton, NJ, 08037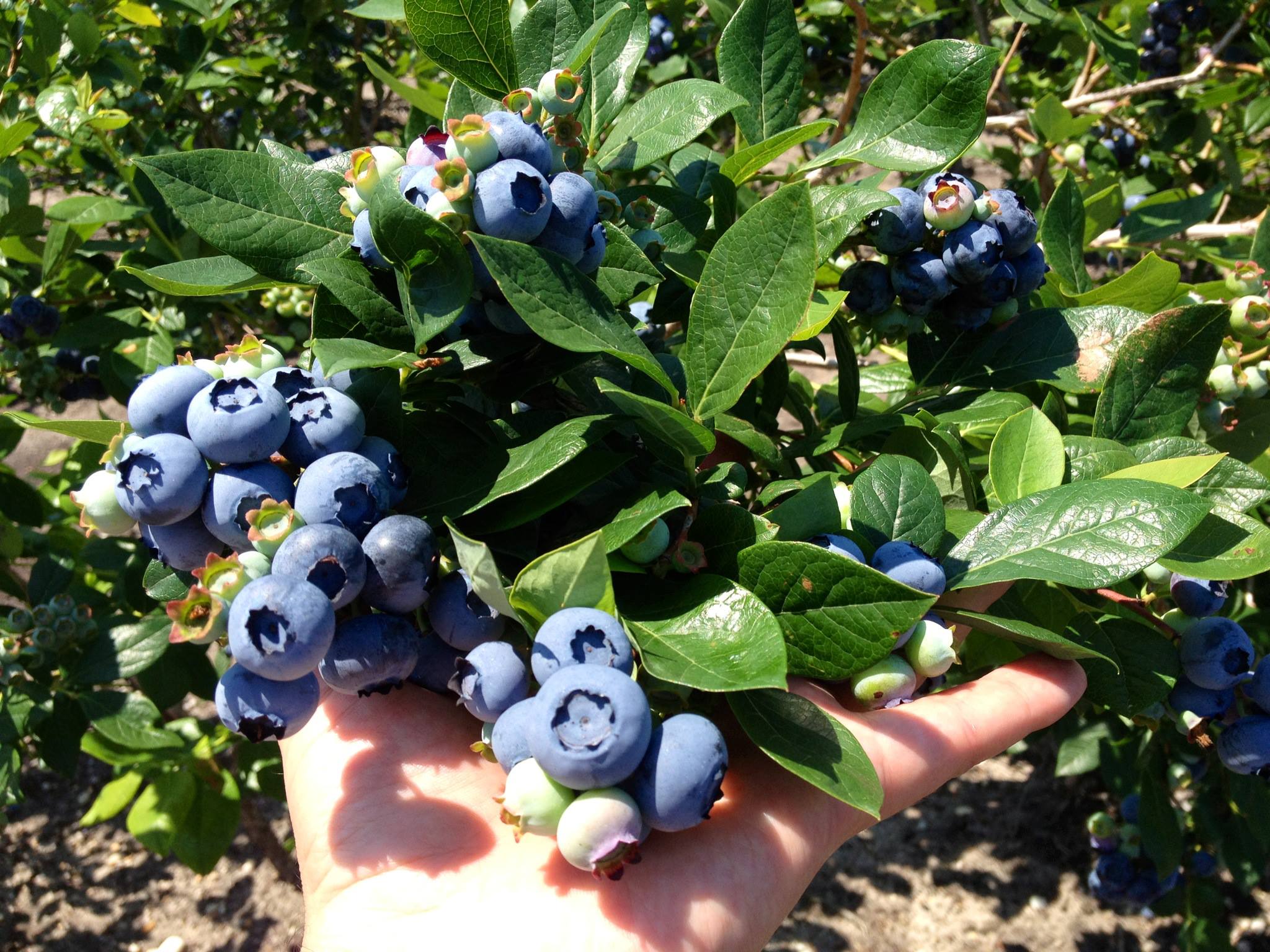 Farm Description

DiMeo Farms is a 107 year-old, 4th generation family blueberry farm and blueberry plants nursery that sells and ships ultra-heavy bearing NJ blueberry plants and large mature blueberry bushes for sale farmer direct to backyard organic blueberry plant gardeners and blueberry growers of all sizes. DiMeo Farms specializes in big bearing-size organic blueberry plants and mature blueberry bushes. They offer other NJ berry plants as well at their DiMeo Blueberry Farms and Blueberry Plants Nursery location in Hammonton, New Jersey. DiMeo Farms ships super-hardy blueberry plants that are ORGANIC, Non-GMO, Heirloom blueberry plant varieties. DiMeo Farmers also ship blueberry bushes at low prices so you can grow your own healthy organic blueberries at home without overpaying for pricey organic blueberries at the grocery store. They also sell big, bearing-size blueberry bushes. Only $15 each. Ready to Fruit this Summer 2024. Call DiMeo Farms now at (609) 561-5905 to get a fast shipping quote on organic blueberry plants mail order shipment, or schedule a drive-thru pick up appointment at South Jersey blueberry farm in Hammonton, NJ.

The DiMeo family also has a u-pick organic blueberries farm in South Jersey. You can pick better tasting rare heirloom NJ blueberries. Only $2.50 per blueberry pint, during the summer months of June, July and August 2024. DiMeo's pick your own organic blueberry farms also has kayaking in South Jersey where you can kayak with your loved ones in the New Jersey Pinelands forest region in the Hammonton, NJ Pine Barrens are near Wharton State Forest and just down the road from Batsto Historic Village.

DiMeo Farms ultra-heavy bearing blueberry bushes can grow you huge, quarter-size tasty blueberries. The DiMeo farmers can ship BIG 3 year-old, super hardy organic blueberry plants direct to your door for less money. The DiMeo's are real old-fashioned blueberry plant experts that sell and ship direct to both large commercial blueberry growers and small home growers or blueberry patch gardeners from all across America. The DiMeo Farms Facebook profile page now has over 96,000 likes with happy customers from all across the country. Always go to the official DiMeo Farms website first, to get all the details before placing your order. Learn how to grow your own organic blueberries at home with the DiMeo blueberry farmer growing tips and ORGANIC, Non-GMO blueberry bushes shipped direct from DiMeo Farms in South Jersey where you can also go kayaking on the creek.
Hours of Operation

DiMeo Farms current Winter 2023 business hours are Monday thru Saturday (10AM to 5PM) and Sunday (Closed). But our business hours can frequently change, and only get longer during the New Jersey blueberry planting season and the NJ blueberry picking season during the summer months. But to buy blueberry bushes we are open BY APPOINTMENT ONLY. So always be sure to call us first to schedule an appointment before you drive out. DiMeo Blueberry Farms gives all of it's blueberry plants nursery customers free, easy organic blueberry planting instructions and blueberry growing tips for those who want to learn how to grow NJ organic blueberries plants with DiMeo's ultra-heavy bearing organic blueberry bushes for sale blueberry farmer direct at our New Jersey blueberry farms in Hammonton. CALL NOW (609) 561-5905 with any questions on our organic berry plants. One call. All your answers. The DiMeo family greatly appreciates your blueberries and blueberry plants business.
Activities
Hiking | Living History Farm | OTHER: DiMeo Farms & Blueberry Plants Nursery hosts farm wedding ceremonies at the best South Jersey farm wedding venue located in Hammonton, NJ. Each of our New Jersey blueberry farm weddings are low impact recreation that create an opportunity for DiMeo Farms to promote the agricultural output of our NJ family blueberry farm in Hammonton, including but not limited to New Jersey blueberries and NJ blueberry plants or New Jersey grown blueberry bushes and incorporates them into each of the outdoor only NJ farm weddings so that home growers can learn about how New Jersey blueberries are grown. But they can also get to enjoy locally grown organic blueberries from New Jersey, incorporated into various blueberry desserts dishes as well as listen to an NJ blueberries educational session on how to grow organic Non-GMO, Heirloom blueberries at home in your own backyard with big ultra-heavy bearing organic blueberry bushes for sale direct to the public. Call DiMeo Farms now at (609) 561-5905 for more details on our rustic farm weddings and kayaking in South Jersey. Be sure to visit our official website www.DiMeoFarms.com to get all the official details on our products and services before you make a purchase or place an order. DiMeo Blueberry Farms appreciates your blueberries, blueberry plants and New Jersey pick your own blueberry farm business. Thank you for supporting local New Jersey blueberry farmers.
Pick-Your-Own
Blueberries | OTHER: Go blueberry picking in NJ at the DiMeo pick your own organic blueberry farms in Hammonton, New Jersey this Summer 2024. Only $2.50 per pint for the best tasting organic New Jersey blueberries. Pack your a picnic lunch and enjoy a rustic fully shaded picnic grove area, and enjoy kayaking in NJ on the Hammonton Creek which runs through the back of our pick your own organic blueberry farm property. Enjoy the beautiful NJ Pinelands forest in the Wharton State Forest region. Call (609) 561-5905 to schedule a blueberries picking experience at the DiMeo Pick Your Own Organic Blueberry Farms today. Our NJ u-pick farm is the most beautiful pick your own organic blueberry farm in New Jersey. Give us a try just once, and you will come back every summer to pick New Jersey blueberries at DiMeo Farms and go kayaking in South Jersey Pinelands. You can also buy organic NJ blueberry plants and organic blueberry bushes to take home with you.
Farm Products
Bedding Plants | Berries | Fruit | Organic Berries | Organic Fruit | Wood Products | OTHER: NJ blueberry plants and organic blueberry bushes, organic red raspberry plants, thornless blackberry plants, aronia berry plants, pink lemonade blueberry plants, organic peat moss, firewood bundles for South Jersey campers going to Wharton State Forest or around the historic Batsto Village area. You can rent kayaks in South Jersey at our kayaking adventure on the big beautiful creek that runs through Hammonton, NJ.
Facilities / Services
Large Groups Welcome | Picnicking | Restrooms | Wheelchair Accessible | OTHER: Call DiMeo U-Pick Organic Blueberries Farms first to schedule an appointment. Pick your own organic blueberry farm location in the NJ Pine Barrens forest with picnic area along the beautiful Hammonton Creek along our NJ blueberry picking fields with the best NJ u-pick blueberry farm atmosphere in the entire state. CALL NOW (609) 561-5905 to schedule an appointment to come blueberry picking in South Jersey in Summer 2024 at DiMeo's Pick Your Own Blueberry Farms in Hammonton with the best blueberry picking in New Jersey. We also sell the best NJ organic blueberry plants too, such as red raspberry plants, thornless blackberry plants, aronia berry bushes, NJ firewood bundles and special growers grade organic peat moss.
Activities by Arrangement
Weddings & Receptions | OTHER: We have one of the best farm wedding ceremony locations in New Jersey. You can have a private wedding ceremony surrounded by our South Jersey blueberry fields where we also have Pick Your Own Organic Blueberries in NJ at DiMeo Farms this Summer 2024. South Jersey Blueberry Picking at the DiMeo Blueberry Farm. CALL NOW (609) 561-5905 to get added to our VIP invite list, so you can be the first to pick fresh NJ blueberries. Enjoy our nature trails along the forest, then pick the best tasting blueberries in New Jersey. Gotta love the NJ Pine Barrens for relaxation and nature at it's finest. Relax at our PYO organic blueberry farm in New Jersey.